Google has made official the new version of Android, we speak of Android 4.0 Ice Cream Sandwich, a version of which we have heard and seen these days talk about over and over again, but if we can say that we know all the official details.
In this part of the Special on the newly announced Android 4.0 Ice Cream Sandwich We will do a review by its new interface and the possibilities offered by new face to the end user.
The new interface of Android 4.0 Ice Cream Sandwich
We had seen it before, but now we know their secrets: the new interface of Android 4.0 Ice Cream Sandwich offers a redesign previously quite spectacular on seen on Android, takes the best of Android 2.3 and Android 3.0 and combined with new touches original, as the new typography official and exclusive called "Roboto", specially designed for a comfortable reading on high resolution screens.
New Visual action buttons replace the typical physicists so far Android terminals.
From the screen unlock to multi-tasking system check as in Google have done a complete facelift in the system, leaving the sliding buttons in favor of circles and floating forms that already appeared in Android 3.0 Honeycomb.
Notifications will appear always in a bar of notifications on small terminals, tablets appear on system bar as usual.
Create new folders in the "home screen" stacking icons one above the other, after this we will add the name of the resulting folder.
We also have a new display of "Favorites" where we will add our Widgets and shortcuts preferred a new fully customizable home screen to access it from any "home screen".
New Widgets are something very interesting, "live" widgets that are halfway between an app and previous widgets. You can read emails from them, navigate through the calendar and listen to music or check the streams of our social networks as always.
Now, they are also resizable, as in Honeycomb, allowing us to adjust it to the size that best fits us in our screen-space.
In the new unlock screen we can immediately access features like the camera or the notification bar. In the notification bar you can discard ads that do not interest us with a simple slip of the finger. We can also respond by SMS to missed calls and perform different actions.
The virtual keyboard and Android 4.0 voice recognition Ice Cream Sandwich
Android 4.0 Ice Cream Sandwich also brings new features in its virtual keyboard. It introduces a new system of dictionaries to make writing faster and more effective.
In addition, a new system of speech recognition that corrects us and underlines the text rendered in real time to avoid write errors in the system is introduced. With a simple touch you can see Android suggestions and correct it.
With new voice recognition system we will be able to dictate the text that you want in the languages that you want and for as long as you want, according to Google.
Monitor your connections and enjoy the accessibility of Android 4.0 Ice Cream Sandwich
Android 4.0 introduces another interesting novelty for all users who like to control their expenses: A system that monitors us all consumption data of the system, both by applications, in General, indicating the global consumption of a given date or amount of certain data that insert you and letting us know before exceed that amount. You can even disable 3 G if we wish it.
This function is effective in both mobile and wireless data networks.
Accessibility is also an important point of Android 4.0 Ice Cream Sandwich, which incorporates a complete system for disabled people called "explore by touch".
With this system will be navigating the auditory system without the need to use the screen visually, this becomes quite useful, bearing in mind that we will not have no physical button now onwards.
The auditory interface we will be reporting at all times concrete place system where we are pressing on the screen at that time, with a second touch on the same site, you access the selected command.
This mode is especially useful when using the system tray, in the internet browser also will be able to use a "reader" of text. The source of the system may also be increased for easier reading.
New agenda and new camera application on Android 4.0 Ice Cream Sandwich
The contacts are now located in the new "People App", an agenda renewed with more sophisticated features.
The contacts of the "People App" will now display much more information: images of higher resolution, the typical phone numbers, addresses, status updates, events, different social networks.
The Calendar application has also been renewed, now, in addition to several calendars marked in different colors, also will have access to it own system applications, which can add appointments automatically.
The camera application is another of the strengths of Android 4.0 Ice Cream Sandwich.
Continuous focus shutter delay and blast when it comes to capturing images are your great strengths. The stabilized zoom is another new feature, as well as the possibility of capturing image within own a video recording simply by touching the screen while we recorded.
We also feature face detection, which will help us to focus on faces quickly. The panorama mode is another curious point of this application.
We have a photo editor that will allow us to introduce various types of filters inside images to its subsequent ascent to our social networks. We also have a gallery of images completely redesigned, with a minimalist aesthetic. Gallery widget will be used to view the images by browsing through them.
We will also enjoy effects in real time for video, a paragraph which will unleash the fun if we use the camera with our friends.
Another of the interesting new features for users connected to the network is the possibility to take screen captures natively.
The cloud and the navigation on the network with Ice Cream Sandwich
The internet browser is another of the completely redesigned points on Android 4.0 Ice Cream Sandwich.
Synchronization with Google Chrome, mode "desktop" in the websites, tabs, reading offline and increase or decrease of texts and images are the most outstanding novelties of this browser, which now has 220% higher than the browser on Android 2.3 performance (in a Nexus S).
The Email application also boasts notable improvements. Completion improved, rapid response and faster when reply or forward messages are their most remarkable tricks of face to the end user.
It also has a new menu to navigate easily between accounts and tags.
For the company, the app now supports EAS v14, with all the improvements that this implies for the users to make use of it.
Email widget is another of the key points to be resizable and show the latest emails quickly, which will access in own Email app when clicking on them.
Beam, the new NFC Bluetooth HDP and Ice Cream Sandwich, WiFi Direct connectivity
Beam is the new feature of Android 4.0 Ice Cream Sandwich that will make use of NFC connectivity. With Beam can quickly share apps, contacts, music and videos with other terminal which use this technology.
We may use another new feature of this system to unlock the terminal, it is face recognition. With the use of this function will be absolute and personalized control of the terminal, you can access a photo stroke.
With support for WiFi Direct we can establish connections WiFi direct between other devices with wireless network such as TV's, printers, media players, etc..
With Bluetooth HDP connect quickly with sensors that make use of Bluetooth technology, whether hospital, fitness, or other sensors. Hands-free high quality audio also embodies the HFP 1.6 protocol for connections.
See complete gallery» Android 4.0 Ice Cream Sandwich in pictures (44 pictures)
Gallery
Acer CloudMobile Review
Source: www.phonearena.com
Acer CloudMobile Review
Source: www.phonearena.com
How To Transform Your Android Into Android 4.0 Ice Cream …
Source: dazeinfo.com
Image of Nexus Prime + Android 4.0 UI screenshots leak …
Source: www.neowin.net
Download free Android 4.0 Ice Cream Sandwich Launcher
Source: www.redicals.com
Android 4.0: Get your sweet tooth for some Ice Cream …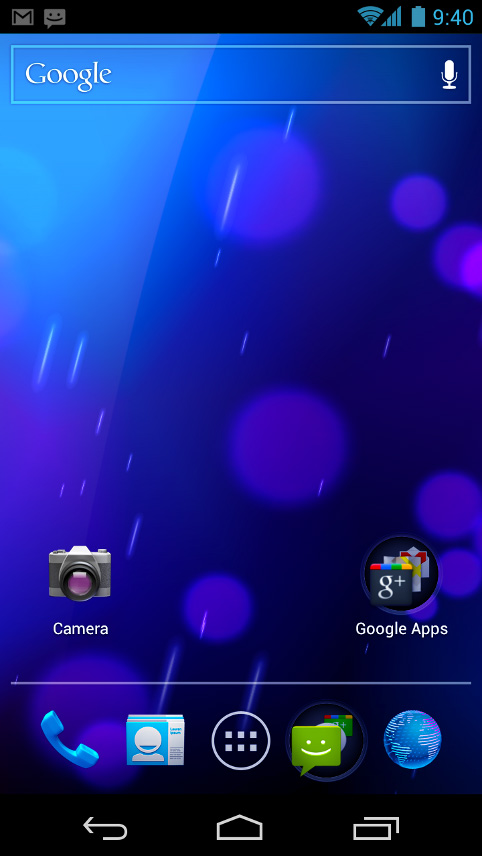 Source: www.mobigyaan.com
Download & Install Android 4.0 Ice Cream Sandwich Firmware …
Source: www.jayceooi.com
Install I9100XXLPQ Samsung Galaxy S2 Official Android 4.0 …
Source: androidromupdate.com
Comparison Between Android Gingerbread And Ice Cream …
Source: www.bestandroidblog.com
Samsung Galaxy S II Gets Official ICS Update OTA Android 4 …
Source: androidadvices.com
Image of Nexus Prime + Android 4.0 UI screenshots leak …
Source: www.neowin.net
Android 4.0 for TELUS Samsung Galaxy S II X Now Available …
Source: news.softpedia.com
Windows Metro Style Android User Interface (video)
Source: www.geeky-gadgets.com
T989UVLE1 ICS 4.0.3 Stock ROM US T-Mobile Samsung Galaxy S …
Source: androidromupdate.com
Acer CloudMobile Review
Source: www.phonearena.com
Acer CloudMobile Review
Source: www.phonearena.com
Verizon HTC Droid Incredible 4G LTE announced with 4-inch …
Source: www.androidcentral.com
Experience Ice Cream Sandwich on your Phone
Source: androidadvices.com
HTC Thunderbolt Official Android 4.0 ROM Leaked
Source: thedroidguy.com
Bell Samsung Galaxy S2 Official ICS Firmware Update …
Source: androidromupdate.com